Here is the CCMS schedule for Thursday evening at Blue Valley. Volleyball starts at 4:00pm and football will kick off at 6:30pm. #CliftonClydePride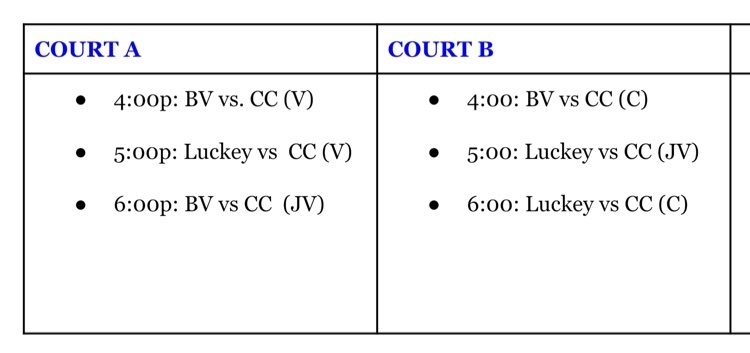 CCGS/CCMS and Sports pictures are Wednesday the 28th. #CliftonClydePride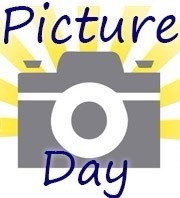 CCHS JV football at Axtell. Sept 26. 6:00pm.

Here is the schedule for Tuesday's CCMS Volleyball Triangular at Clay Center. Talk to your daughter about what team she will be playing on. #CliftonClydePride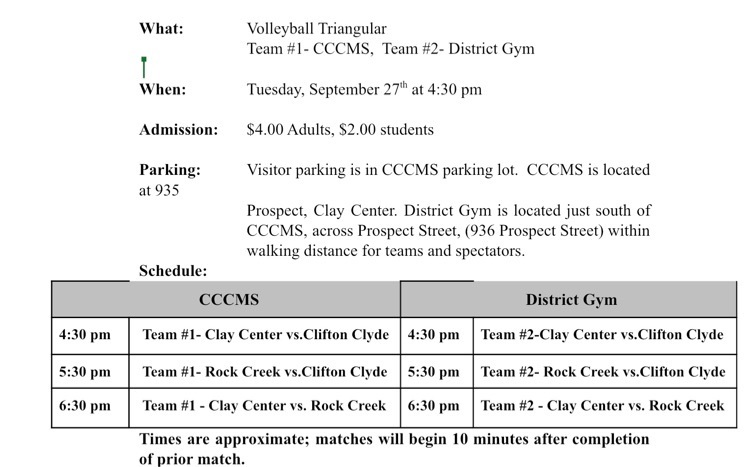 CCHS volleyball @ Linn. Sept. 27. First game of the evening starts at 5:00pm. CC will play at approximately 6:00 and 7:00.


CCHS JV football vs Frankfort scheduled for Monday, Sept 26, has been canceled by FF. We're working on another game.

CCHS JV football vs Frankfort. Monday, Sept. 26, 6:00pm @ Clifton-Clyde.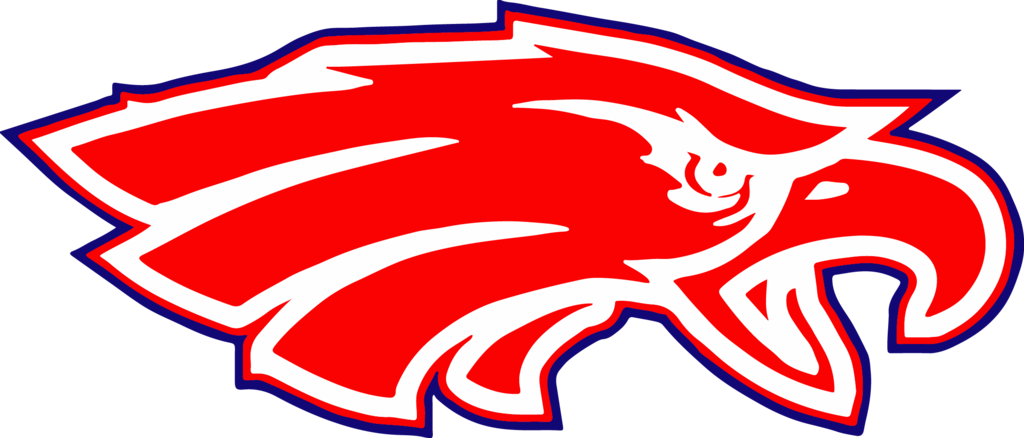 Congraulations to our kindergarten helpers!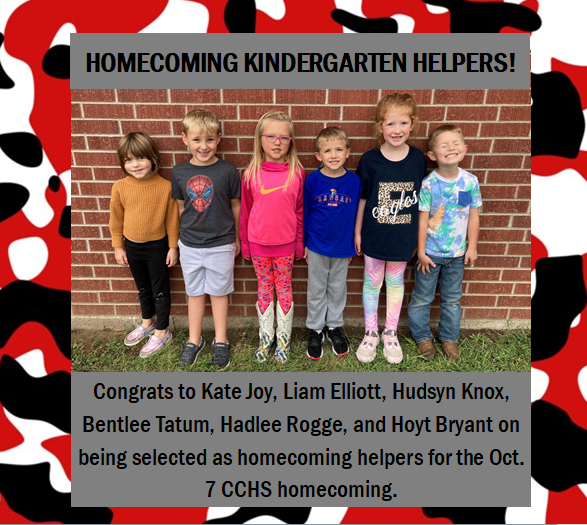 CCHS Volleyball @ Wakefield HS. Saturday, Sept. 24. See pics for schedule.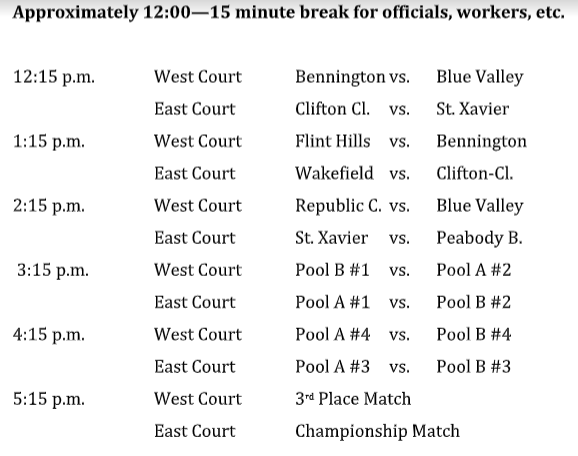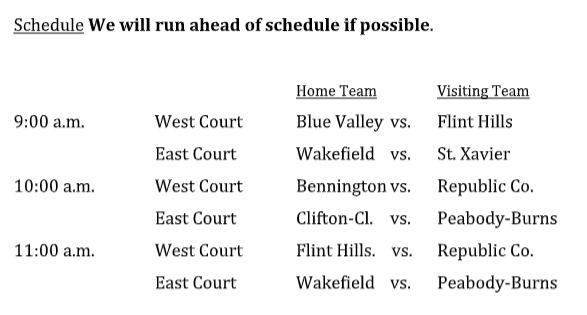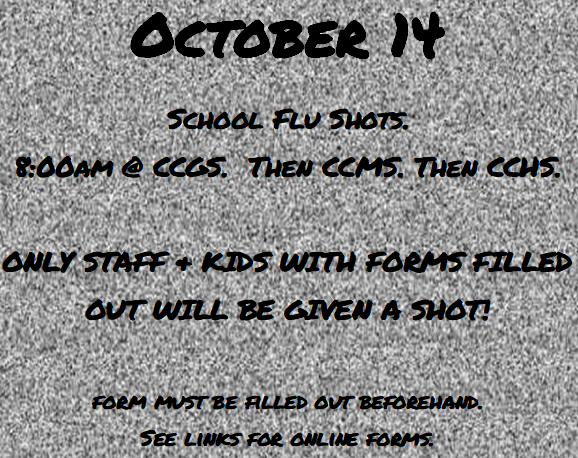 Tomorrow night is the CCMS Literacy Night and the last night for the Book Fair. Literacy Night begins at 6:30pm in the gym with a Read Aloud by Mr. Sacco. Make plans to come out to our circus themed night of fun!!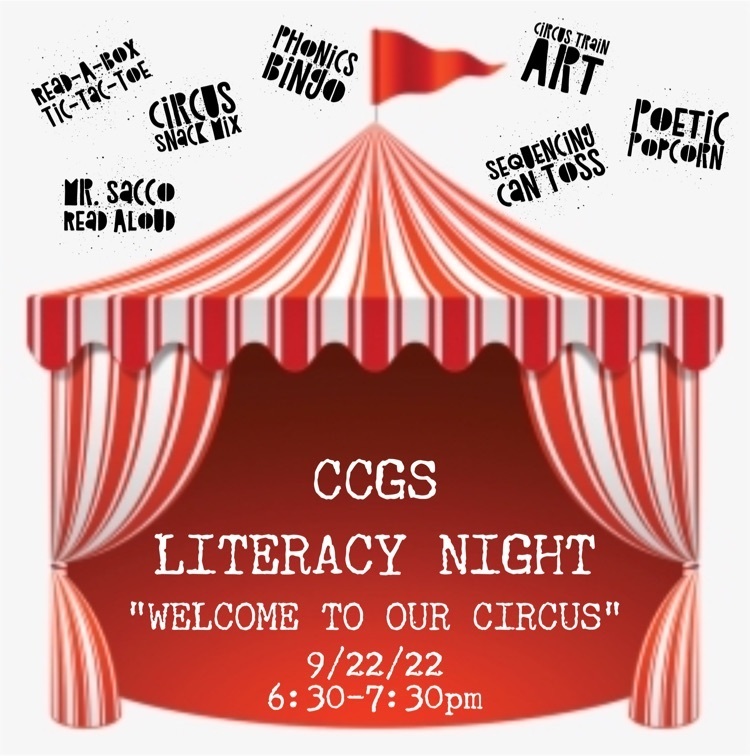 CCHS HOMECOMING! Please note that ALL SCHOOLS will be dismissed at 2:45pm that day so that students can attend the parade.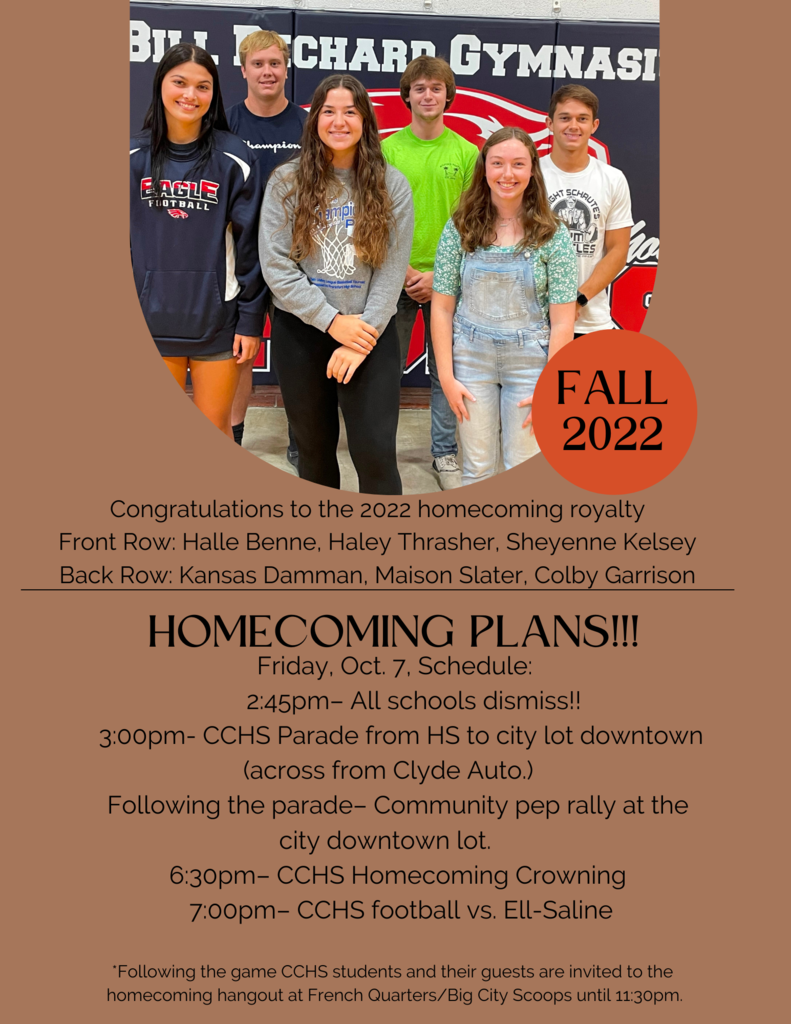 Friday, Sept. 23: -No School! -CCHS Football @ Washington Co- 7:00pm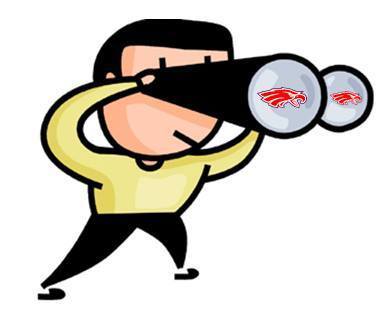 CCHS Volleyball @ Valley Heights, Sept. 20. All games at VHHS.

Monday, Sept 19. NO SCHOOL. Parent and Student-Led Conferences in the afternoon. Book fair at CCGS will be open next week too. Lastly, CCHS JV football vs Rawlings Co (@ Kensington). 5:30pm start.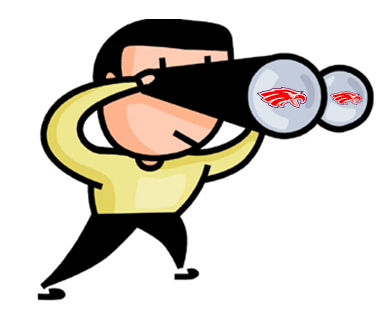 CCMS A Team Volleyball schedule for Saturday's tournament at Valley Heights. #CliftonClydePride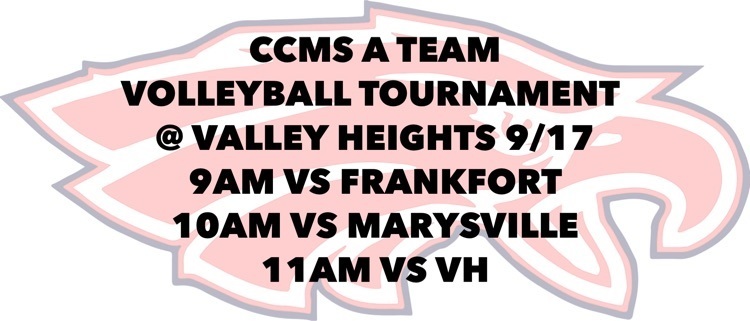 CCHS Volleyball @ Republic County. Saturday, Sept. 17. Please see schedule attached. Good luck ladies!


CCHS Football vs Axtell. Friday, Sept. 16. 7:00PM. Hog feed on the concrete by the home bleachers starts at 6:00pm. Thanks to Sorell Farms for the hog donation. Also, it's Military Appreciation Night so come support our past and current military.

Parents of class of 2023. If you receive a text from Josten's about caps and gowns please ignore it. The class of 2020 purchased caps and gowns for us to keep for future use and the class of 2023 will be using those. If you have any questions please contact the high school office.